Sanpeace Foods (Pty) Ltd, trading as The Coffee Roasting Co., imports the highest available grades of Arabica coffees from the world's foremost coffee growing regions (handpicked, highland-grown), roasts them with skill using state-of-the-art technology and makes them available to customers as fresh as possible.
The Coffee Roasting Co. produces the highest-grade, freshest, coffee: roasted-to-order, ground-to-order and brewed-to-order.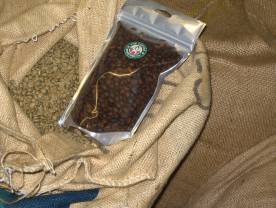 Policy:
Sanpeace Foods (Pty) Ltd does not require our employees, suppliers, customers or owners to classify themselves on the basis of race, sex, religious affiliation or sexual orientation.
"I have fought against white domination, and I have fought against black domination. I have cherished the ideal of a democratic and free society in which all persons live together in harmony and with equal opportunities." Nelson Mandela, 20 April, 1964