A good coffee is like a good partner: hot, rich, has a good body and keeps you awake all night.
"Thank You For The Coffee"
(sung to ABBA's music)

I'm nothing special, in fact I'm a bit of a bore
If I tell a joke, you've probably heard it before
But I have a talent, a wonderful thing
'Cause everyone listens when I start to sing
I'm so grateful and proud
All I want is to sing it out loud

So I say
Thank you for the coffee, the brew I'm drinking
Thanks for all the joy they're bringing
Who can live without it, I ask in all honesty
What would life be?
Without a mug or a glass what are we?
So I say thank you for the coffee
For giving it to me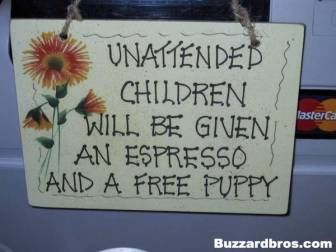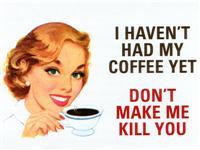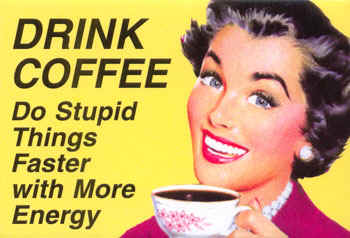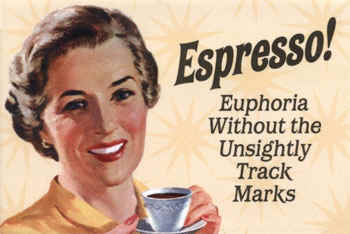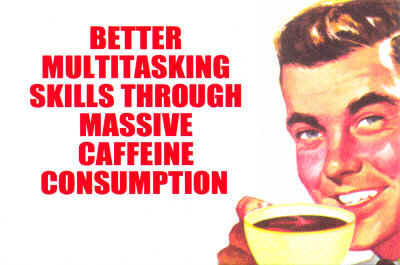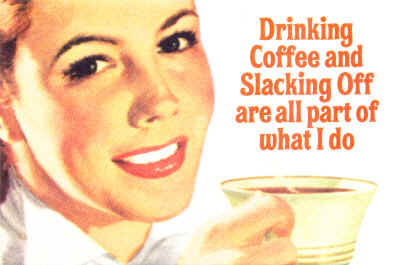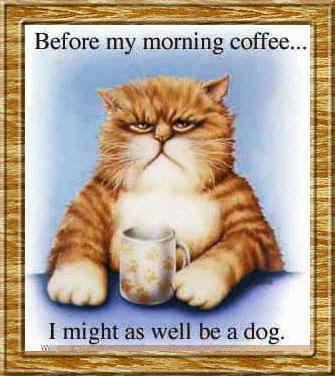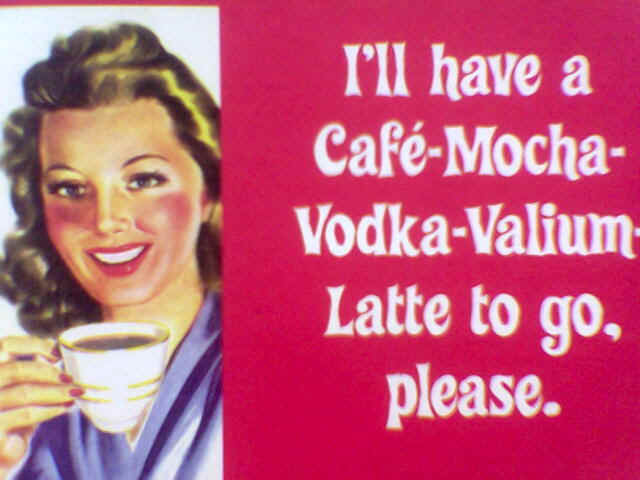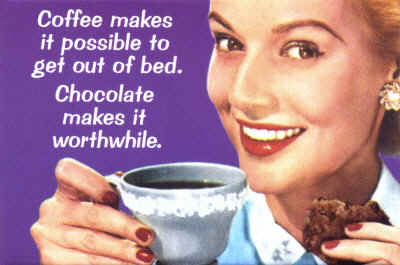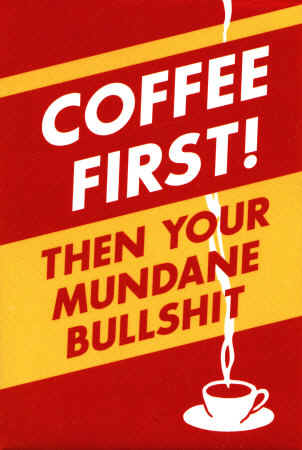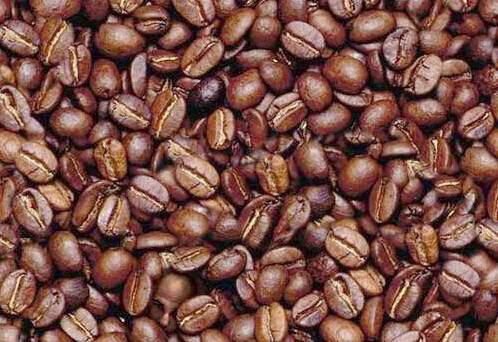 The man in the coffee beans: Doctors have concluded that if you find the man in the coffee beans in 3 seconds, your right half of your brain is better developed than most people. If you find the man between 3 seconds and 1 minute, your right half of the brain is developed normally. If you find the man between 1 minute and 3 minutes, then the right half of your brain is functioning slowly and you need to eat more protein. If you have not found the man after 3 minutes....

And, yes, the man is really there!!!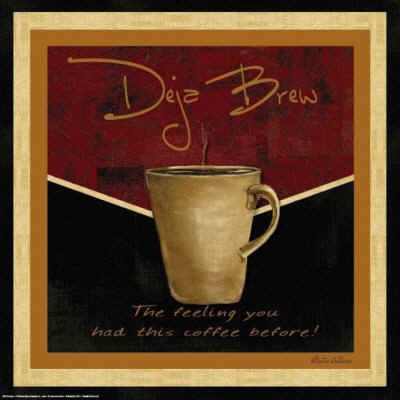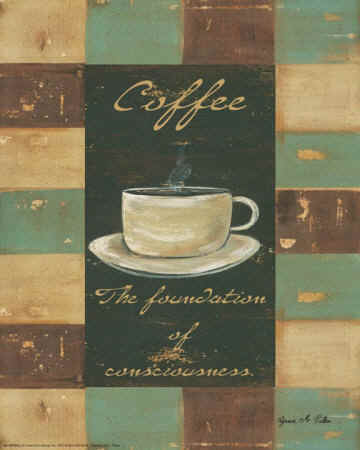 Coffee quotes:
If this is coffee, please bring me some tea; but if this is tea, please bring me some coffee - Abraham Lincoln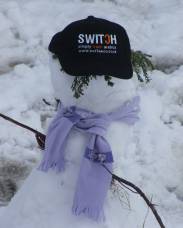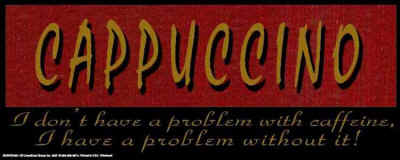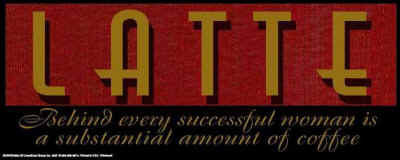 A mathematician is a machine that converts coffee into theorems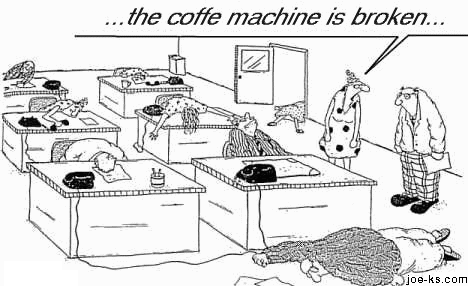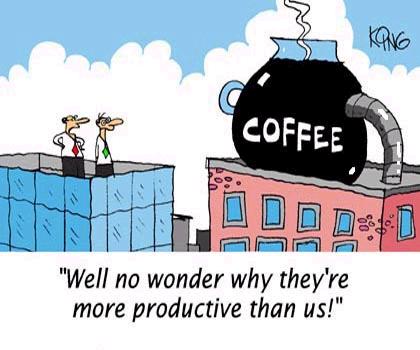 Coffee, which makes the politicians wise,
And see through all things with his half-shut eyes.
~Alexander Pope
Over second and third cups flow matters of high finance, high state, common gossip and low comedy. Coffee is a social binder, a warmer of tongues, a soberer of minds, a stimulant of wit, a foiler of sleep if you want it so. From roadside mugs to the classic demi-tasse, it is the perfect democrat.
I believe humans get a lot done, not because we're smart, but because we have thumbs so we can make coffee. ~Flash Rosenberg
A fig for partridges and quails,
ye dainties I know nothing of ye;
But on the highest mount in Wales
Would choose in peace to drink my coffee.
~Jonathon Swift
Coffee in styrofoam is against my religion. ~Betsy Cañas Garmon,
This coffee tastes like mud! Well, it was ground this morning. ~Author Unknown

I like my coffee strong, not lethal! ~M*A*S*H

I don't have a problem with caffeine. I have a problem without caffeine! ~Author Unknown

Behind every successful woman is a substantial amount of coffee. ~Stephanie Piro
Coffee and tobacco are complete repose. ~Turkish Proverb

I had some dreams, they were clouds in my coffee. ~Carly Simon

In Seattle you haven't had enough coffee until you can thread a sewing machine while it's running. ~Jeff Bezos

Black as the devil, Hot as hell,
Pure as an angel, Sweet as love.
~Charles Maurice de Talleyrand-Perigord

Coffee in England is just toasted milk. ~Author Unknown

Ultimate office automation - networked coffee machines. ~Author Unknown

Everybody should believe in something. I believe I'll have another coffee. ~Author Unknown

Caffeine is my shepherd; I shall not doze.
It maketh me to wake in green pastures:
It leadeth me beyond the sleeping masses.
It restoreth my buzz:
It leadeth me in the paths of consciousness for its name's sake.
Yea, though I walk through the valley of the shadow of addiction,
I will fear no Equal™:
For thou art with me; thy cream and thy sugar they comfort me.
Thou preparest a carafe before me in the presence of The Starbucks:
Thou anointest my day with pep; my mug runneth over.
Surely richness and taste shall follow me all the days of my life:
And I will dwell in the House of Mochas forever.
I could smell myself awake with that coffee. ~Jaesse Tyler

Coffee: The first peripheral! ~Author Unknown

I have measured out my life with coffee spoons. ~T.S. Eliot

Actually, this seems to be the basic need of the human heart in nearly every great crisis - a good hot cup of coffee. ~Alexander King