The Dualit coffee grinder is a fully adjustable burr grinder, producing a quality consistent grind. It has a 250g hopper and a one to ten cup doser. It's about 16cm by 29cm by 11cm in size, weighs 1.5kg and is rated at 180 watts. Subject to shipment - please check with us about availability and price.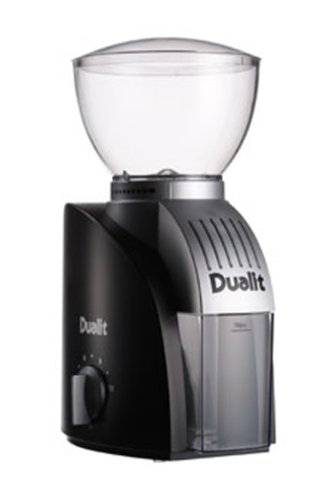 Online Instructions for the Dualit EL60 coffee grinder
General and Safety information
Use common sense and don't do anything like immerse it into water, plug it into the wrong voltage or try and operate it without the hopper.
Setting the grind size
Turning the hopper sets the size of the ground coffee. The small dot is fine grind (normally for espresso brewing), the middle size for filter machine brewing and the large dot gives a coarse size for plunger brewing (French press) - (more on brewing here). Only change the size of the grind when the hopper is empty, otherwise you might wedge a coffee bean or two in the burrs.
Quantity control
The best way to control the quantity is to keep the grinder empty and use a standard coffee measure (7g) to measure the required amount of coffee beans into the hopper. It's best to keep the coffee beans in an airtight container like the Coffee Roasting Co. glass jar (never leave the coffee in the hopper - it will oxidise and go stale). The control mechanism is a timer - turn it to a number one or two larger than the number of measures: for example if you put in three measures of coffee beans, turn it to four. Always let the timer and grinder "run out" - forcing the timer to zero when it has finished grinding can damage the mechanism in the long run. It also ensures that the burr mechanism clears of all coffee. Don't grind more than 100g in one session to prevent overheating.
Cleaning
Unplug the grinder. Turn the hopper anticlockwise to the stop and lift it. The grinding ring can be removed and is best cleaned with a soft-bristle brush. The grinding mechanism has a safety friction clutch that saves the motor if any solid object gets wedged in the burrs. Remove any such object in this way too. To remove coffee oils from the burrs grind a measure or two of white rice occasionally. The plastic parts can be cleaned with a slightly damp cloth.
Guarantee
The grinder carries a one year guarantee from date of purchase, subject to it being used properly of course.
To contact Dualit directly:
Dualit / Country Oak Way / Cawley / West Sussex RH117ST, UK / Tel 01293-652500 / Fax 01293-652555 / www.dualit.com / e-mail: info@dualit.com
Please note prices may vary with changes in the echange rate and manufacturer's price